Shopping Cart
Your Cart is Empty
Thank you for your business!
You should be receiving an order confirmation from Paypal shortly.
Exit Shopping Cart
Click here to add a short description
​ WHY PAWWEAR?

WE'RE GLAD YOU ASKED!
Click this text to start editing. This block is a basic combination of a title and a paragraph. Use it to welcome visitors to your website, or explain a product or service without using an image. Try keeping the paragraph short and breaking off the text-only areas of your page to keep your website interesting to visitors.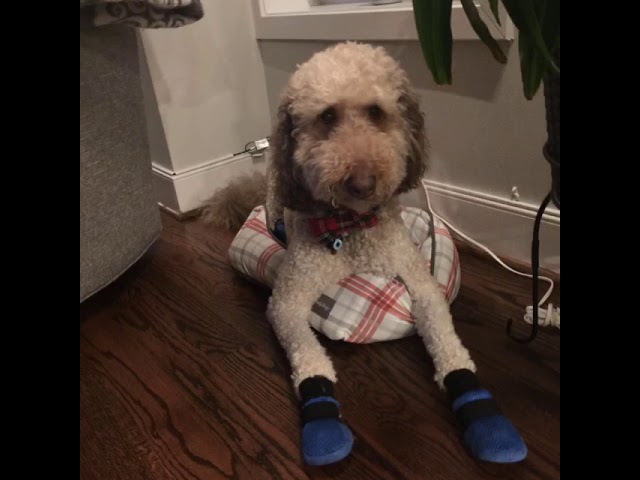 PAWWEAR FACTS
WITH HANK
Learn first hand the importance of PAWWEAR from a dog's perspective, of course. Hank, our CEO knows full well what a game changer PAWWEAR can be.
"If I Bring You Your Slippers,

Will You

Buy Me PAWwear?"
Here's what we've been working on
Broken glass, thorns, and other sharp debris can cut or get stuck in paws.
Hot asphalt, concrete and brick burns paws. If it's 85 degrees outside, exterior surfaces can get as hot as 130-145 degrees.
HAZERDOUS MATERIALS & GERMS
Avoid walking in germs and other hazerous materials that can make your dog sick.
Snow becomes impacted between paw pads and toes causing discomfort and pain.
Here's what we've been working on
Ice is sharp and slippery causing cuts and slipping injuries.
Ice melt irritates and burns paws making dogs sick when they lick their paws clean.
A day at the beach in hot sand can be painful. Sharp debris can cause cuts and severe injuries.
Mud belongs outside - not on floors and furniture.
Here's what we've been working on
Cold weather causes cold surfaces making paws uncomfortable.
Additional traction on all exterior surfaces prevents injuries.
Many dogs dislike the sensation of wet paws, and avoid puddles and wet grass.
For older dogs, PAWwear™ prevents slipping on indoor flooring and hardwoods (and also prevents scratching of surfaces).
SUBSCRIBE TO OUR MAILING LIST



We'd love to get to know you and your comPAWdres.

Sign-up here for updates on product offerings and promotions,

silly and instructional vlogs and blogs,

and useful product tips for our comPAWdres around the globe.

We will never sell your information to anyone.
Click Here to Add a Title
"No matter how you're feeling, a little dog gunna love you."
-Waka Flocka Flame
/